Degania, The First Kibbutz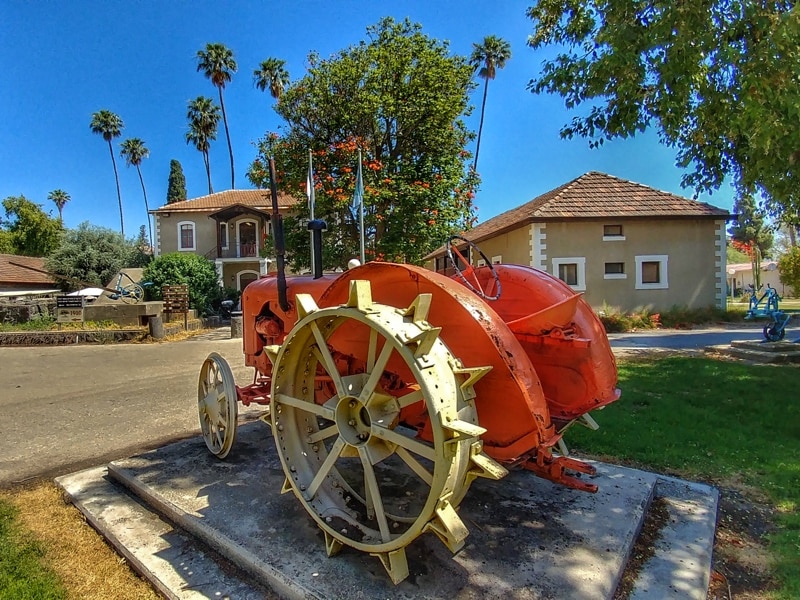 Established near the Sea of Galilee in 1910 by 12 young men, Degania was the first Zionist farm in Israel whose members agreed to share the profits and supplies equally.  This revolutionary communal farm and its lifestyle became known as – kibbutz. In the following decades, over 300 kibbutsim, followed the model of Degania, establishing communal farms across the Land of Israel. In its peak, 10% of the Israel's population was living in the Kibbutzim. Degania's founders first lived in a one house in Umm Juni, and then settled by the mouth of the Jordan river. In 1920 another kibbutz, named Degania Beth, was formed next to Degania. The two kibbutz Children were educated in its own school and lived in separate children homes (team members Danny and Edan were still raised in such homes). Being close to the Golan Heights, in 1948 Kibbutz Degania Alef was attacked by Syrian army, and destroyed. Yet by the end of the war it was restored. To this day, the kibbutz displays at its main entrance a Syrian tank that was stopped at the gates of the kibbutz. Following many other kibbutzim, in 2007 Degania's members also voted for fundamental changes in the communal lifestyle. Nevertheless, the kibbutz is preserving well its quaint feel, and invites visitors to see and appreciate its historical landmarks.
Touring Degania
At the Kibbutz' main entrance visitors are invited to take a photo with the French made R35 Renault tank. This tank was used by the Syrians in their 1948 attack on the kibbutz. Stopped at the Kibbutz' gates, by a PIAT round and a Molotov cocktail, it was left at the same spot where it was stopped. The PIAT hit of its turret is very clear. Inside the Kibbutz, visitors are welcomed to see the Kibbutz' old courtyard and visit its first communal dining room, now converted to a Founders Museum.  At the other end of the Kibbutz, the Gordon Museum, is a humble-sized nature museum of natural History, displaying mostly stuffed animals from of the region. Founded in 1935, it is named after A.D. Gordon, one of Degania's notable members, known for  advocating on kibbutz and work ethics. Children will appreciate a visit to Galita Chocolate Farm in Degania Beth, where the family is invited to participate in chocolate workshops. Join the kids in making chocolate figures or a chocolate dream house, to be eaten later, or take back home.
A tour of Kibbutz Degania can be combined with a guided day tour of the Galilee.
Contact us to inquire more about a private tour to the Galilee: