Jerusalem's Jaffa Road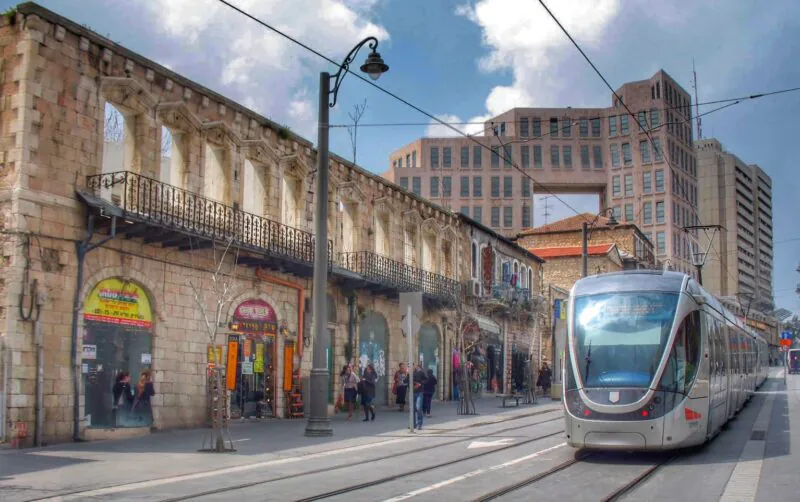 Jaffa Road is the main throughway of western Jerusalem, built on the end path of the old road from Jaffa to Jerusalem's old city.
The History of Jaffa Road
In ancient times the main road from the coast to Jerusalem ascended through Beth-Horon and reached Jerusalem from Nabi Samuil. The Crusaders were first to use also this southern axis, and form forts along its way – Latrun, Castel, Belmont, and more. Centuries later the Ottoman favored this road and it was the first road paved between Jaffa and Jerusalem. In its last mile before reaching Jerusalem's old city, the road follows the plateau between Romema and Jaffa gate. In the early 20th century Jewish neighborhoods developed on both sides of this part of the road, as well as a market – the Mahane Yehudah Market. Shops and restaurants were built along its road, and to this day Jerusalem main bus terminal is at its western end. In the 1990's the street lost its popularity to new close and airconditioned malls, bu in the early 21st century the polluting vehicles were replaced with an electric light rail. This revived the commercial and cultural life along the street, attracting crowds once again.
Exploring Jaffa Road
Jaffa road combines a fascinating mix of historical buildings, a variety of eateries, and shops oriented mostly to the locals. Along its path are the popular Mahane Yehudah Market and Ben-Yehudah pedestrian mall. Opposite them is the Ultra-Orthodox center of Mea Shearim. At its eastern end is the municipality building complex, and Jaffa Gate, the main entry to the old city from the West.
A tour of Jaffa Road can be combined with a guided day tour of Jerusalem.
Contact us to inquire more about a private tour of Jerusalem: