Nitzana
Perched on a hill above Nahal Nizzana, Nitzana was an important site Negev desert in the Classical periods. Nitzana was founded by the Nabateans, probably as a caravanserai along an eastern route of the 'Incense Route'.
The Incense Route and the Negev
The 'Incense Route' was a network of ancient roads that enabled transferring precious spices and perfumes across the Arabian Peninsula to the Mediterranean coast. The full length and exact path of the Incense Route is still not fully known. It began somewhere in Yemen, passed through Mecca, Medina, Petra, and ended in the ports of Gaza and El-Arish. The path from Petra to the Mediterranean coast is better documented. It passed the Aravah and the traversed through the heart of the Negev, including a difficult cross of the Ramon Crater. Today, the route and its related archaeological sites are UNESCO World Heritage Sites.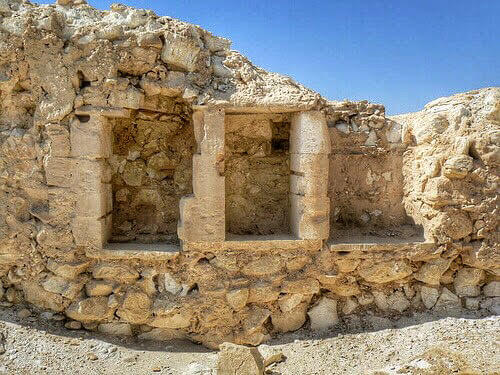 Later, in the Roman and Byzantine Periods, Nitzana developed as a regional center of the Roman southern security zone (the 'Limes'). In the Byzantine period the city spread into the valley below and had at least three churches built in it.
The site was probably abandoned after the Muslim conquest of the region. Centuries later, during the First World War, the Ottomans built a military base at the site, and installed a railway station next to it. In 1935-1937 during excavations at the site, a rare papyri archive was discovered in Nitzana's citadel. The documents shed light on the life in Nitzana and the Negev in the Byzantine period, and the increasing taxation by the Muslims, which probably led to the abandonment of the site.
Touring Nitzana
The site is located next to Kfar Nitzana and a border crossing point into Egypt. It is open year-round, free of charge. It is recommended to also the nearby Ottoman era-train station, the 'Nitzana Curvs' rocks, and the wells at Be'erotaim.
Contact us to inquire more about a private tour Nitzana: