Sleeping in Bedouin Style Campsites in Wadi Rum
Wadi Rum is one of the most beautiful deserts in the world. Its lunar-like special landscape can be explored in various ways, including a special overnight experience. The options range from a rudimentary Bedouin tents and lodges, to luxury level 'Bubbles' or 'Martian domes'. The Bedouin campsites offer the basic service of tents for up to 5 people, and public toilets. Lodges offer also cemented rooms with private toilets, and sometimes additional amenities. Bait Ali lodge, for instance, has a swimming pool, an organic farm, and ATV rentals.
The most luxurious option is the "Matian Tents" – domed structures made of partially transparent plastic. They create an illusion of sleeping under the brilliant night sky, while lying comfortably in a king-size bed, with linen sheets. Sleeping in any of these accommodations is a unique experience, absorbing the desert special night atmosphere.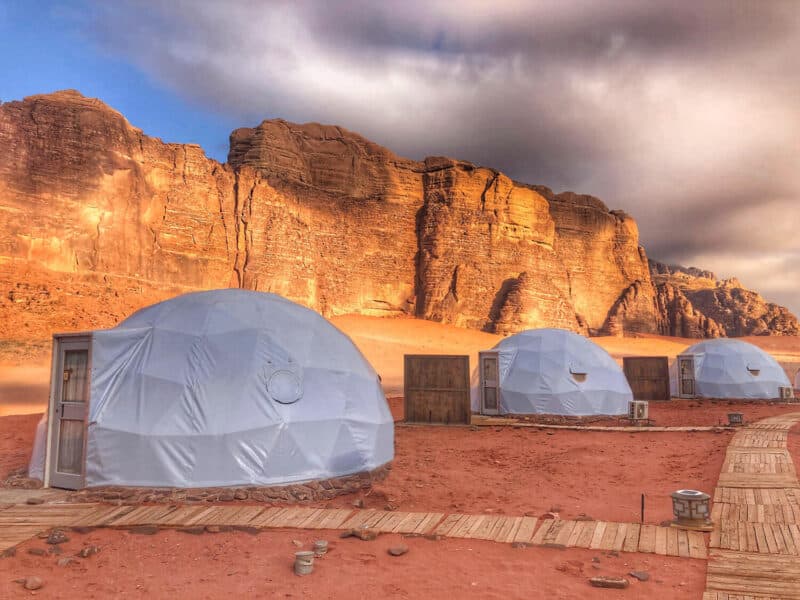 All campsites offer both dinner and breakfast, and at all campsites you are invited after dinner to join a bonfire and listen to some live Bedouin music while sipping some tea. Some facilities also offer a stargazing session at night, with telescopes and laser pointers.
An overnight stay in Wadi Rum can be combined with a 2 days tour to Wadi Rum and Petra, or a multi-day tour of Jordan.