Eretz-Israel Museum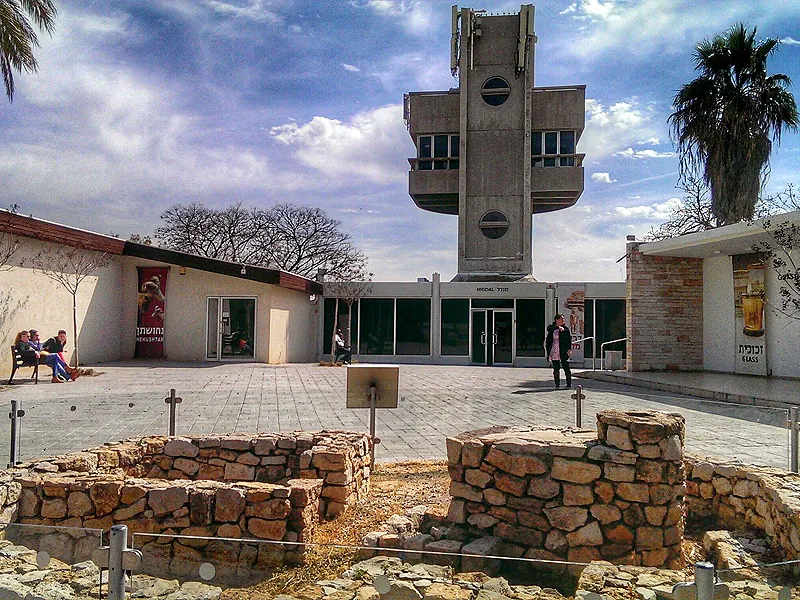 Founded in 1953 in northern Tel-Aviv, the Eretz-Israel Museum is the third largest museum in Israel. It covers an area of 20 acres and includes even an archaeologist site (Tel Qasile). Its 15 buildings exhibit a wide array of exhibitions. The most interesting for history and archaeology buffs would be:
The Copper Pavilion – An exhibition devoted to the revolutionary discovery of copper ore in Timna, in the southern Negev. Besides copper artifacts and smelting furnaces, the exhibit combines artifacts from a Midianite-Egyptian temple uncovered in Timna, whose finds include copper serpent (cf. Numbers 21:9) and possible early evidence of monotheism.
The Kadman Numismatic Pavilion – An exhibit of one of the second biggest numismatic collection in Israel, set in chronological order, from pre-coins barter system to 19th bank notes from Palestine.
The Ceramics Pavilion – A rich display of pottery made vessels from various archaeological sites in the Land of Israel. The exhibit follows the development of local pottery making, from prehistorical times to the Ottoman period, and its cultural context.
The Glass Pavilion – A colorful exhibition of a wide range delicate glass made artifacts demonstrating the invention and application of glass making through the history of the land. The exhibit includes a unique gold-glass panel found in Caesarea. Dating to the late Byzantine period, it is a stunning work of glass cubes, some with thin golden leaves, set in a semi-circular panel. Discovered in 2005 in the Birds' Mosaic Mansion, it is further testimony to the wealth of Caesarea, also in late antiquity.
The grounds of the museum also display various agricultural installation, and a few mosaic floors. These include two rare mosaic floors of a Jewish and a Samaritan Synagogue from the Byzantine period.
Touring the Eretz-Israel Museum
The Eretz-Israel Museum is open Monday to Saturday. Touring the museum can be a nice cultural break from the bustling streets of Tel-Aviv, and can be combined with other museums in northern Tel-Aviv, such as the Palmach Museum, the Rabin Center and the Diaspora Museum (Beit Hatfutsot).
A tour of the Museum, and Tel Qesile, can be combined in a guided day tour to Jaffa and Tel-Aviv.
Contact us to inquire more about a private tour to the Eretz-Israel Museum: