Lot's Wife Pillar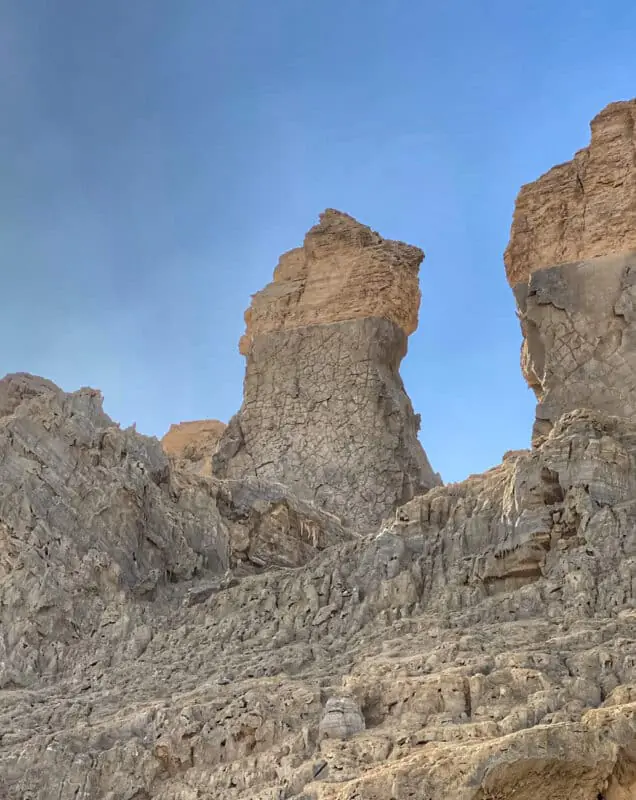 Lot's Wife Pillar is a popular name given to a large pillar of salt and brown soil, visible next to road 90, south of Masada. By local tradition this is Lot's wife who turned into a pillar of salt for disobeying God's command, as told in Genesis 19:26. Geologist Dr. Amos Frumkin suggests the pillar was formed by a collapse of a cave some 4000 years ago from a mass scale earthquake. In the Biblical story the pillar of salt is associated with God's destruction of Sodom and Gomorrah, which some suggest to locate on the opposite site of the Dead Sea, at Bab Edh-Dhra. It is interesting to note that archaeologists date the destruction of Bab Edh-Dhra to the same time as the formation of the pillar, possibly a result of the earthquake. It is possible that the story of Sodom and Gomorrah and Lot's wife evolved from a combination of these events.
Reaching Lot's Wife Pillar
The pillar is located along a cliff on the western side of road 90, about 25 miles south of Masada. A road sign marks the parking spot from where photos of the pillar can be taken. The pillar slightly resembles a figure leaning forward and wearing a dress. A more slim pillar next to Bab Edh-Dhra, in today's Jordan, is by local Muslim tradition representing the daughter of Seikh Lot.
A visit to the site can be combined in a day tour of the Dead Sea.
Contact us to inquire more about a private tour to Lot's Wife Pillar: